Round Robin Showmanship Contest
Friday, August 18, 10:00 AM
Show Barn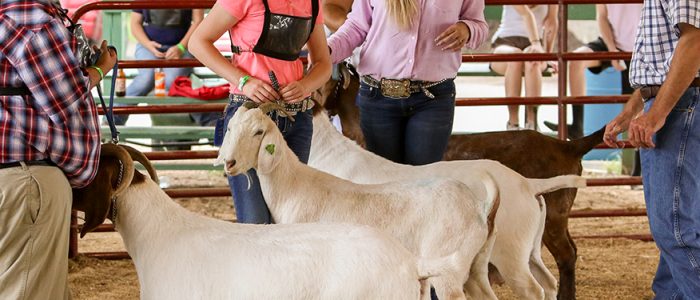 This contest is not only fun, but it serves as an Educational tool introducing exhibitors to various species of animals and the showmanship skills needed to properly show their animal and be competitive.
In order to qualify for this event, youth must be the Champion Showman in their respective specie showmanship division for beef, sheep, swine, goat and dairy during fair week. Entries will be limited to the Champion Showman in the Junior, Intermediate, and Senior age divisions. Only 5 Seniors, 5 Intermediates, and 5 Juniors will qualify.
Exhibitors can choose not to compete; however, they will need to let a member of the Round Robin Committee (as listed above) know this immediately after their species show. If the Champion Showman elects not to compete in his/her specie division then the option to compete will be offered to the reserve champion. If neither elects to compete the offer would continue down the showmanship placing order until a youth agrees to participate from that specie and age category.
Once the 4-H of FFA member has won the Round Robin Showmanship Contest, they become ineligible for future Round Robin Showmanship competition until they reach the next age division. Reserve Champion winners may compete in their respective age groups again.
If a 4-H or FFA member wins showmanship honors in more than one species, they may select the species they wish to represent and the reserve winner in the other species will represent that species in the Round Robin contest.
Contestants rotate among beef, sheep, swine, goat and dairy, to judge their abilities with all (5) species of livestock.
The youth will not be responsible for getting the animals to show, the Round Robin Planning Committee will do this. Only one animal species will be in the ring at a time.
Proper attire and show equipment will be the responsibility of the youth exhibitor.
2016 Contest Sponsors
Clearbrook Feed & Supply, Inc.
Harvue Farm