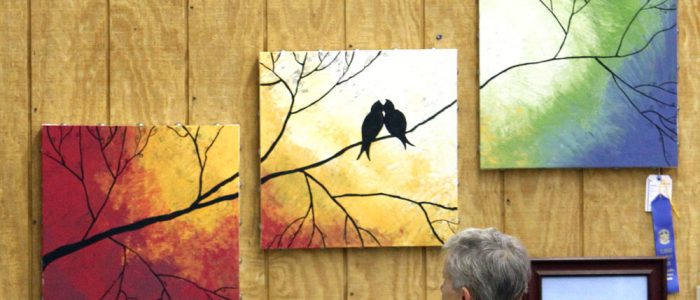 GENERAL RULES AND REGULATIONS
Original Art Only, No Reproductions.
Exhibitors are limited to two entries, each of which must be in a different class.
Entries must be framed or mounted with a screw eye and wire ready for hanging. String and sawtooth hangers are not accepted for hanging. The committee can not provide picture hanging hardware.
Only work that has not been exhibited previously in the show will be judged.
Any resident of Clarke County, Northern Virginia and West Virginia are eligible for entry.
Exhibits may be entered on Fair Sunday from 3 p.m.to 7 p.m. and  Monday 11:00 a.m. to 7:00 p.m.
All exhibits must be removed on Sunday 2:00 pm to 5:00 p.m.
Department L is open to Primary- 7 and under; Juniors- 8 through 13; Seniors- 14 through 19; Adult I- 20 through 59; and Adult II- 60 and over.
The Best in Show will include the Junior Division, Senior Division, and Adult I & II Divisions.
All entries receive careful handling; however, the Ruritan Club will not assume responsibility for loss or damage to an exhibit.
Pre-registration is available for exhibitors that have 5 or more exhibits in the Homemaking, Fine Arts & Photography Departments combined.
ON-LINE PRE-REGISTRATION DUE BY JULY 31, 2017
L-0 Primary Division
| Classes | Premiums | | |
| --- | --- | --- | --- |
| | 1st | 2nd | 3rd |
| Drawing | 3.00 | 2.00 | 1.00 |
| Painting | 3.00 | 2.00 | 1.00 |
| Miscellaneous | 3.00 | 2.00 | 1.00 |
| Sculpture and Ceramics | 3.00 | 2.00 | 1.00 |
| Miniatures (3" and under) | 3.00 | 2.00 | 1.00 |
L-1 Junior Division
| Classes | Premiums | | |
| --- | --- | --- | --- |
| | 1st | 2nd | 3rd |
| Oil | 3.00 | 2.00 | 1.00 |
| Acrylic | 3.00 | 2.00 | 1.00 |
| Watercolor | 3.00 | 2.00 | 1.00 |
| Drawings (pencil, charcoal, pastel, ink) | 3.00 | 2.00 | 1.00 |
| Prints (lithograph, etchings, silkscreens, monoprints) | 3.00 | 2.00 | 1.00 |
| Miscellaneous (mixed media) | 3.00 | 2.00 | 1.00 |
| Sculpture | 3.00 | 2.00 | 1.00 |
| Ceramics | 3.00 | 2.00 | 1.00 |
| Miniatures (3" and under) | 3.00 | 2.00 | 1.00 |
L-2 Senior Division
| Class | Premiums | | |
| --- | --- | --- | --- |
| | 1st | 2nd | 3rd |
| Oil | 5.00 | 3.00 | 2.00 |
| Acrylic | 5.00 | 3.00 | 2.00 |
| Drawings (pencil, charcoal, pastel, ink) | 5.00 | 3.00 | 2.00 |
| Prints (lithograph, etchings, silkscreens, monoprints) | 5.00 | 3.00 | 2.00 |
| Sculpture (clay, wood, metal, wire, etc.) | 5.00 | 3.00 | 2.00 |
| Ceramics (hand built) | 5.00 | 3.00 | 2.00 |
| Ceramics (wheel built) | 5.00 | 3.00 | 2.00 |
| Miscellaneous (mixed media) | 5.00 | 3.00 | 2.00 |
| Miniatures (3" and under) | 5.00 | 3.00 | 2.00 |
L-3 Adult I Division
| Classes | Premiums | | |
| --- | --- | --- | --- |
| | 1st | 2nd | 3rd |
| Oil | 7.00 | 5.00 | 3.00 |
| Acrylic | 7.00 | 5.00 | 3.00 |
| Watercolor | 7.00 | 5.00 | 3.00 |
| Drawings (pencil, charcoal, pastel, ink) | 7.00 | 5.00 | 3.00 |
| Prints (lithograph, etchings, silkscreens, monoprints) | 7.00 | 5.00 | 3.00 |
| Sculpture (clay, wood, metal, wire, etc.) | 7.00 | 5.00 | 3.00 |
| Ceramics (hand built) | 7.00 | 5.00 | 3.00 |
| Ceramics (wheel thrown) | 7.00 | 5.00 | 3.00 |
| Miscellaneous (mixed media) | 7.00 | 5.00 | 3.00 |
| Miniatures (3" and under) | 7.00 | 5.00 | 3.00 |
L-4 Adult II Division
| Classes | Premiums | | |
| --- | --- | --- | --- |
| | 1st | 2nd | 3rd |
| Oil | 7.00 | 5.00 | 3.00 |
| Acrylic | 7.00 | 5.00 | 3.00 |
| Watercolor | 7.00 | 5.00 | 3.00 |
| Drawings (pencil, charcoal, pastel, ink) | 7.00 | 5.00 | 3.00 |
| Prints (lithograph, etchings, silkscreens, monoprints) | 7.00 | 5.00 | 3.00 |
| Sculpture (clay, wood, metal, wire, etc.) | 7.00 | 5.00 | 3.00 |
| Ceramics (hand built) | 7.00 | 5.00 | 3.00 |
| Ceramics (wheel thrown) | 7.00 | 5.00 | 3.00 |
| Miscellaneous (mixed media) | 7.00 | 5.00 | 3.00 |
| Miniatures (3" and under) | 7.00 | 5.00 | 3.00 |
Art entries that are for sale will be so marked. Interested buyers should contact the artist.
Homemaking & Fine Art Departments Special Contest
NEW!! NATIVE AMERICAN INDIAN CULTURAL AWARDS
In honor and memory of Native Americans who lived in the Shenandoah area, this new art award supports art projects that engage communities, enhance creativity and enrich the vibrancy of Native American culture and history in the region.
The 2017 theme is "Painted Ponies."
Judges will select relative entries exhibited based on artistic quality, uniqueness and on how imaginative the work captures the spirit of "Painted Ponies." The work does not have to literally depict real horses.
All artwork must be original and created by the artist.
Exhibits may be entered in ANY department and class within the entire Fine Arts and Homemaking Section such as Arts & Crafts, Needle Art, Hobbies/Collections, etc.
Winners in the Adult (20 and over), Teen (ages 13-19) and Youth (12 and under) categories receive four free tickets to The Gathering along with special honors at The Gathering harvest festival. The Gathering is a Native American festival being held at the Clarke County Fairgrounds on Oct. 21-22, 2017 that includes dancing, music, veteran and uniformed services tribute, painted ponies, motorcycle run (iron horse) and more.