Livestock Skillathon
Friday, August 17, 1:00 PM
Show Barn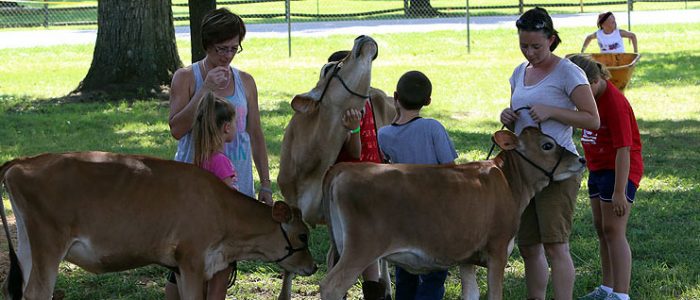 Livestock Skillathon
Ruth Boden ,Kiersten Cochran,Howie Hart, Billie Kelly, John Orndorff,Mallory Unger, Jessica Vincent, Advisor:  Claudia LeFeve
 Mission Statement:   The purpose of the Livestock Skillathon is to provide a valuable educational experience for the youth of Clarke County.  The content of this contest provides a framework for youth to learn a variety of topics related to the production and management of a variety of livestock to include beef, sheep, swine, and goats.
The contest could include the following:
    Written test with questions concerning total livestock industry
    Identification and use of pieces of livestock equipment
    Identification of breeds of beef cattle, goats, sheep, and hogs
    Identification of feeds
   Judging Class (es) of breeding/market animals
This contest is open to all youth currently enrolled in 4-H or FFA in Clarke County.
Willing participants must be registered by 5:00 p.m. on Wednesday of fair week by contacting a member of the committee.
Participants will compete in their respective age divisions and prizes will be awarded for each division.  The divisions will include:
Novice (age 9)
Junior (ages 10 and 11)
Intermediate (ages 12 and 13)
Senior (ages 14 to 19)