Round Robin Showmanship Contest
Friday, August 13, 10:00 AM
Show Barn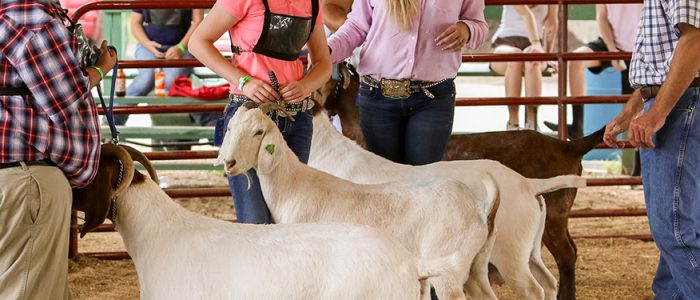 Committee:
Billie Kelly, Jessica Vincent, Kathy Morris, Chad Wiley, Chastity Wiley, Missy Burner,
John Orndorff, Claudia Lefever – Advisor
In order to qualify for this event, youth must be the Champion Showman in their respective species showmanship division for beef, lamb, swine, goat, and dairy during fair week. Entries will be limited to the Champion Showman in the Junior, Intermediate, and Senior age divisions.  Only five Seniors, five Juniors, and five Intermediates will qualify.
If a Champion Showman chooses not to participate; they should let a member of the Round Robin Showmanship committee (listed above) immediately after their species show. At this point the opportunity will be offered to the Reserve Champion Showman in that species. If neither of the above chooses to participate, the choice will be passed down the showmanship placements until a participant is found.
The previous year's winner is ineligible to participate in the same age division.
If a 4-H or FFA member wins showmanship honors in more than one species, they may select the species they wish to represent and the reserve winner in the other species will represent that species in the Round Robin Showmanship Contest.
Contestants will rotate among beef, lamb, swine, goat, and dairy; to judge their abilities with all five species of livestock.
The Round Robin Showmanship Committee will be responsible for getting all animals to the show. Only one animal species will be in the Show Ring at one time.
Proper attire and show equipment will be the responsibility of the exhibitor.
As with any showmanship contest, there will be no "coaching" from the side of the ring. This will be handled by the Round Robin Committee. Refer to the General Rules & Regulations.
2019 Round Robin Winners:
, Junior
, Intermediate
, Senior
Awards Sponsored by Lucky Leaf 4-H Club