Special Presentation
Joe Hulver from the Stonewall Ruritans attended our meeting on Wednesday, 19 January 2022 to present our club with a plaque for having the largest percentage of membership increase in 2021. Joe was at the Ruritan National Convention that was held in Myrtle Beach, SC this year.
Below is a picture of the plaque and also off Joh Hulver presenting the plaque to Brad Broy, the President of the Clarke County Ruritans.
                                                                      ____________________________________________________________
The Clarke County Livestock Sale Committee would like to thank the buyers who purchased animals at the 2021 CC Fair.  You helped make the sale a huge success for the exhibitors.
Alex Gardner – Crownstone Equipment
Animal Medical Center
Apple Valley Animal Hospital**
Audley Farm**
Barbara Byrd**
Berryville Farm & Pet Supply**
Betty Dodge
Bill "Doc" Houck**
Bill & Mary Daniel
Blue Ridge Insurance & Title – Bryan Casey**
Bob & Donna Michael
Brenda Klepper**
Brian Orndorff
Broy & Son Pump Service Inc.
Bruce Welsh
Candice & Calvin Koon
Circle B Farm & Embroidery
Clarke Agricultural Learning Foundation**
Clarke County Farm Bureau
Clarke County Young Farmers Inc.**
Clay Brumback**
Clay Hill Farm – John Staelin
Clearbrook Feed & Supply**
Clint Lawyer
Custom Construction Management – Scott Donnelly
D. Scott Herndon Trucking**
Dave Thompson
David & Debbie Hardesty
Dehaven Show Pigs
Diamond H LLC
Donna's Clean Sweep
Dry Creek Farm
Edgewood Dairy; Robert & Donna Koon
Edmonds Excavating LLC
Edward Jones – Jordan Liskey**
Elite Enterprises
Ellerslie Farm – Brian Ferrell**
Emma Donnelly
Emmart Oil Company – Tim & Jim Emmart
Enders & Shirley Funeral Home**
Farm Family Insurance – Locke Wysong
Farmer's Daughter
Farmers Daughter – Betty Trump
Fenton Simpson
Gardner-Small Show Pigs**
Gary & Joanne Hornbaker
George Roberts**
Gina McIntire
Gordianna Thompson
Gore's Processing Inc.**
Graystone Farm
Green Stripes LLC; Matt & Becky Sandretzky
Guy & Sara Stevenson
H.H. Omps Inc.**
Handy Mart & H.N. Funkhouser & Co.
Hard Tymes Lawn Service – Donnie Swisher
Harold Hartsell
Harvey Dodge**
Hash Auctions
High Gear Truck Repair**
Hollybrook Farm – Mike & Laurel Burner**
Howie Hart – Little Acres Farm
Iron Rail Farm
J & C Hauling**
J.D. Robinson & Son Trucking**
John & Natasha Orndorff
John M. Rose
Jones Funeral Home**
Jordan Childs
Karen Fauog Catering
Kelly Moberg & Bob Pepin
Kiersten Cochran**
Kim & Tom Cochran**
L.S. Gardner & Sons
Larry Royston Septic Service, LLC
Laura Robinson
Lotsa Rock Farm LLC – Michael & Marna Swisher**
Loudoun Stairs**
Marshall CFC Farm & Home Center
Martin's Pumping Service**
MBM Livestock**
MidAtlantic Farm Credit**
Mike Cather
MNM Farms**
Moore Clements & Co.
Noah Travers
Old Dominion Livestock Producers Assoc.
Pecora Dezine
Pete & Alice Fens
Peter & Taylor Fens**
Poe Pourri Hair Designers
Real Business Solutions – Scott Smith
Richard Leight
Riley Shirley
River Fox Farm
Robert & Jennifer Hornbaker
Robert Ashby**
Rock Hall Farm; John & Shelly Pine
Rockingham Cooperative**
Rod DeArment
Sam Gunter
Stateline Sales & Services
Stoneridge Farm**
Swimley Farm – The Unger Family
The Wiley Boys
Tom Rust**
Tri Pine Farm Kris & Becky
Twist of Fate Farm
Ty Unger
Warfield Homes**
Waterloo Electric**
Wayside Farm**
William Houck**
Winchester Animal Hospital
Winchester Equipment Co.**
Special Thanks to:
Clarke County Voluteer Leaders Associatiion and Hash Auctions for sponsorship of the buyer's dinner before the sale
Mercer Vu Farms, Inc. Of White Post for sponsoring the Beef, Sheep & Swine Check-off fees
Joanne & Gary Hornbaker for sponsoring the Annual Buyer's Thank You Banner
Brian Hash for voulnteering his time for auctioneering
All the parents and volunteers who workt to make the livestock sale a success for the youth exhibitors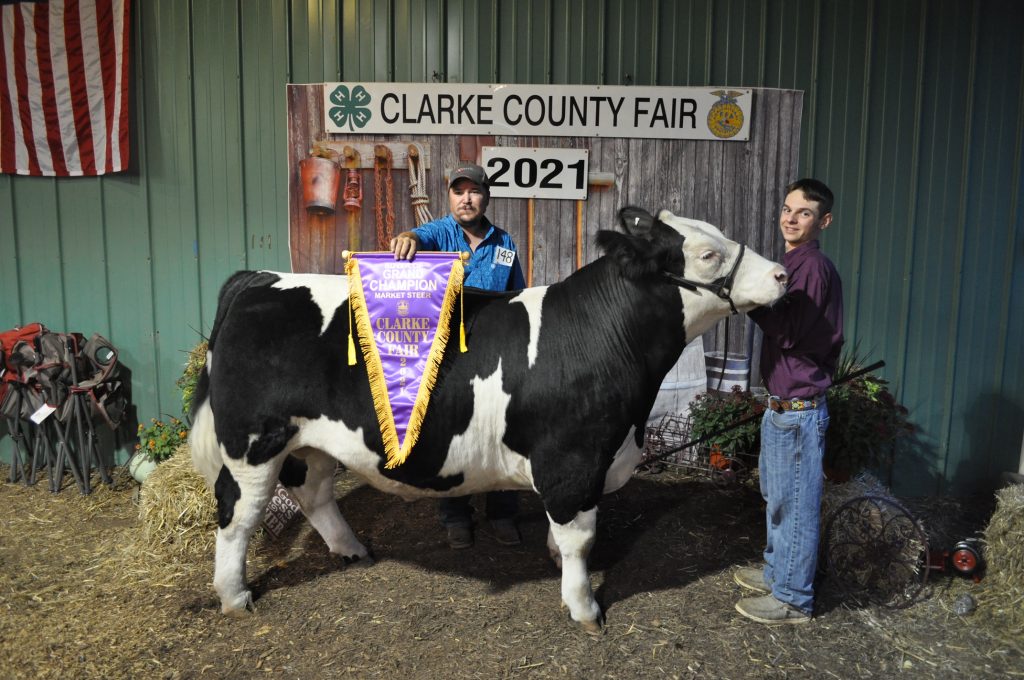 Grand Champion Market Steer
exhibited by: Riley Shirley
purchased by: Emmart Oil Company
Purchase Price: $7.00/lb.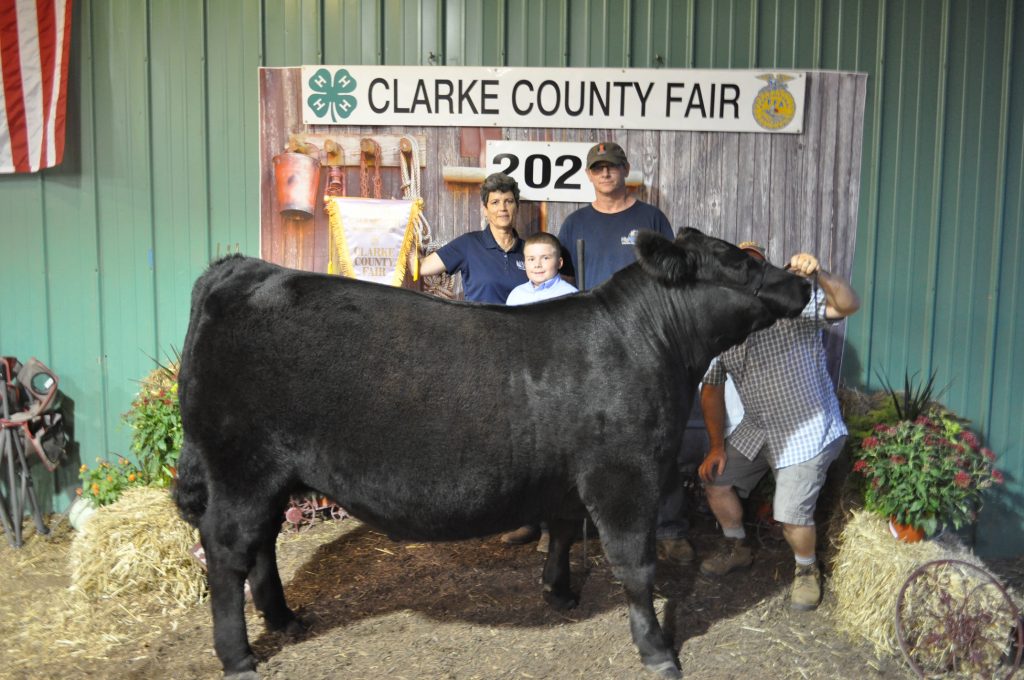 Reserve Champion Market Steer
exhibited by: Jake Hendershot
purchased by: High Gear Truck Repair & Loudoun Stairs
purchase price: $5.75/lb.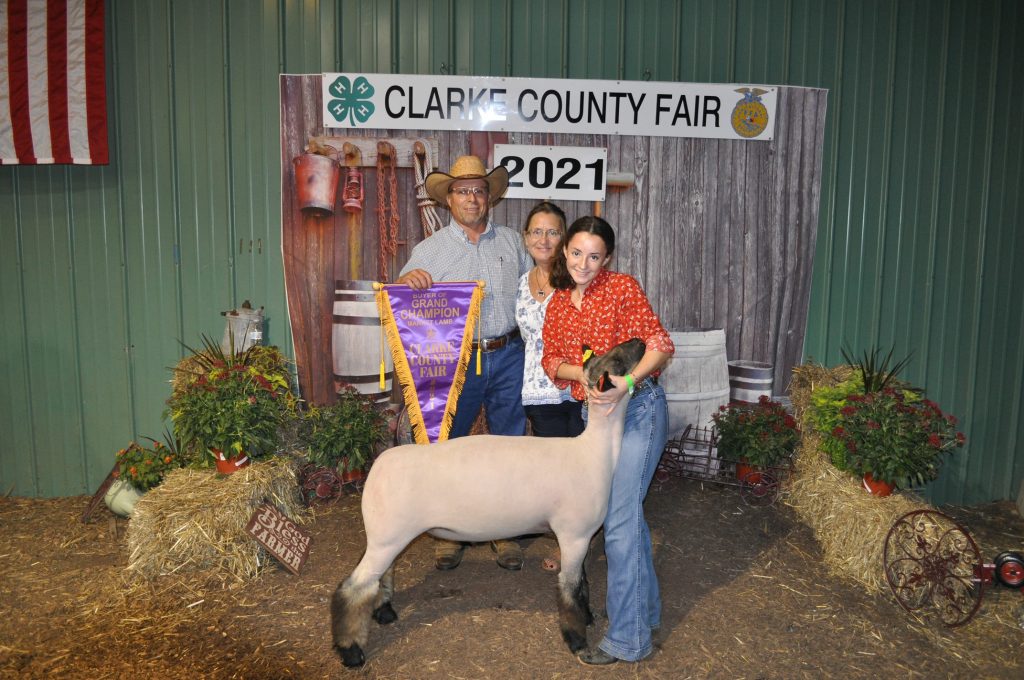 Grand Champion Market Lamb
exhibited by: Eleana Vincent
purhcased by: Tri Pine Farms
Purchase price: $13.50/lb.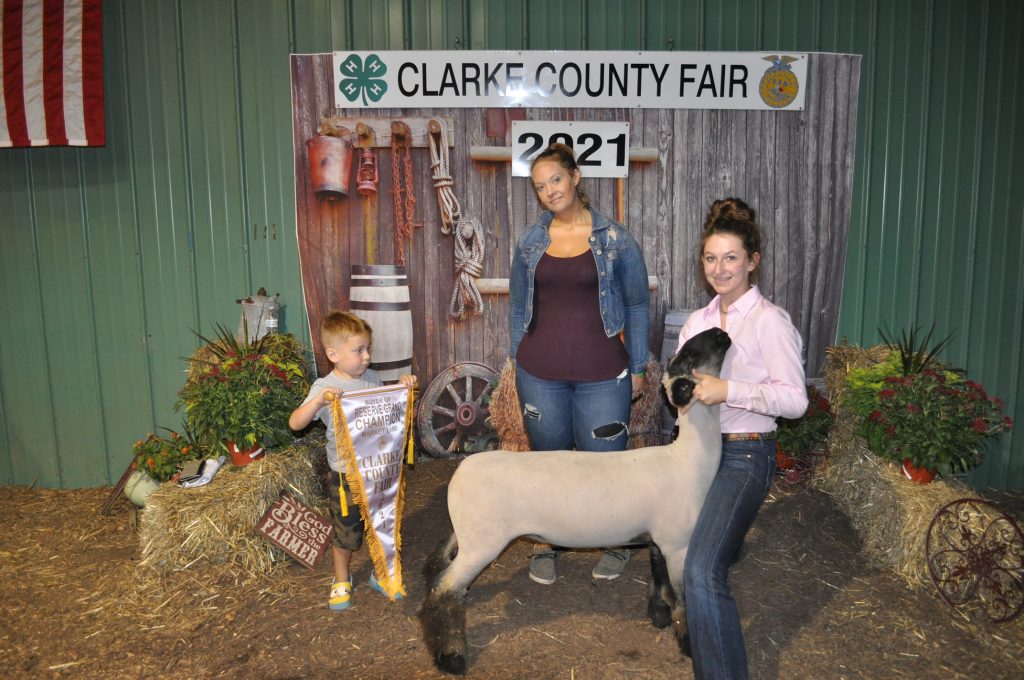 Reserve Champion Market Lamb
exhibited by: Emma Jo Donnelly
purchased by: Laura Robinson
Purchase price: $18.00/lb.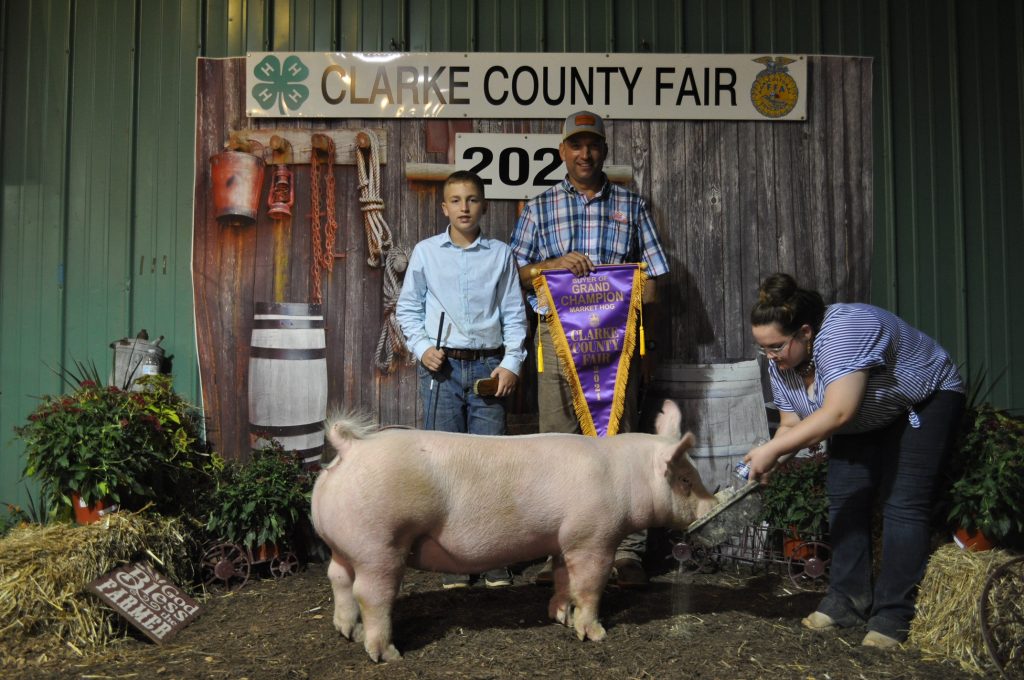 Grand Champion Market Hog
exhibited by: Wilson Travers
purchased by: Marshall CFC Farm & Home Center
purchase price: $7.00/lb.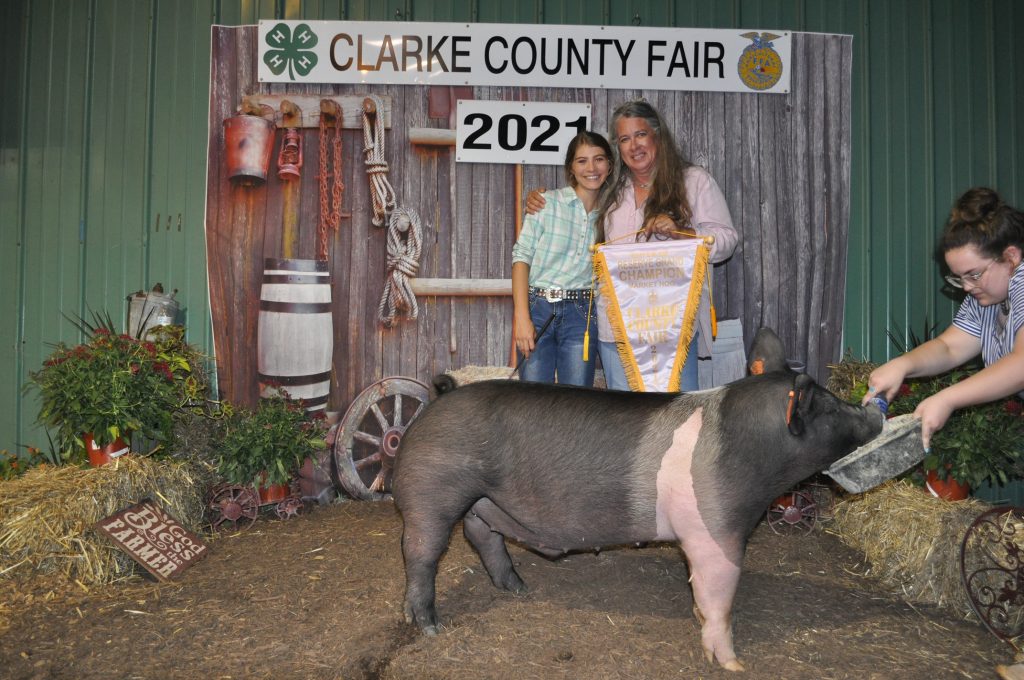 Reserve Champion Market Hog:
exhibited by: Lillian Moorcones
purchased by: Clarke Agricultural Learning Foundation
purchase price: $6.00/lb.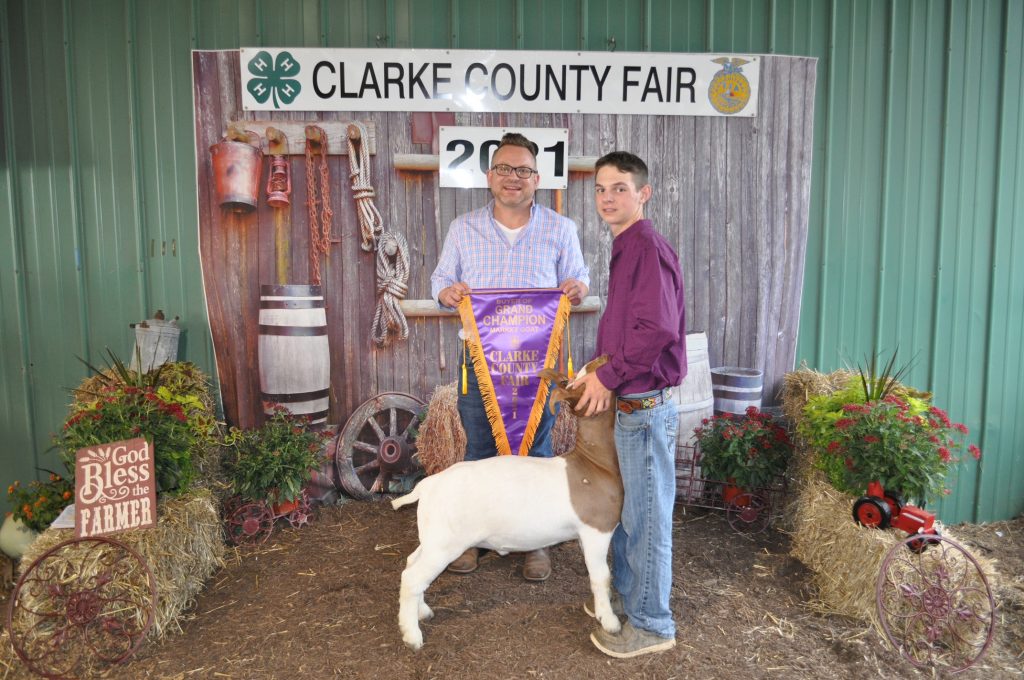 Grand Champion Market Goat
exhibited by: Riley Shirley
purchased by: Edward Jones – Jordan Liskey
purchase price: $10.50/lb.
Reserve Champion Market Goat
exhibited by: Riley Shirley
purchased by: Robert Ashby
purchase price: $10.00/lb.