ANNUAL CLOTHING GIVEAWAY
Free Clothes & Things!
Senior Citizens Only
(55 years and older) Friday, June 6 – 9:00 a.m. – noon 
Seniors: some transportation available Friday, call (540)550-0773
Community Shopping Hours
Thursday, June 9
th
– 5:00 p.m.- 8:00 p.m. 
Saturday, June 11th – 9:00 a.m. – noon 
CLARKE COUNTY FAIRGROUNDS 
890 W. Main Street Berryville, VA 22611
Please come by for free clothes of all sizes for baby, children, youth,
women & men. There may also be shoes, hats, coats, books,
linens, household items & furniture.
Volunteers and donations needed!! call 540-550-0773 with questions
Accepting donations week of 6/6-6/10 at Clarke County Fairgrounds
Find Volunteer and Donation Hours on FACEBOOK at
Clarke County Annual Clothing Giveaway
---
Berryville Virginia Summer Nationals is coming up quick. Save the date. We added Street Gas and Diesel Added

 890 W Main St, Berryville, VA 22611

 June 11th, 6PM

 dragonpulls.com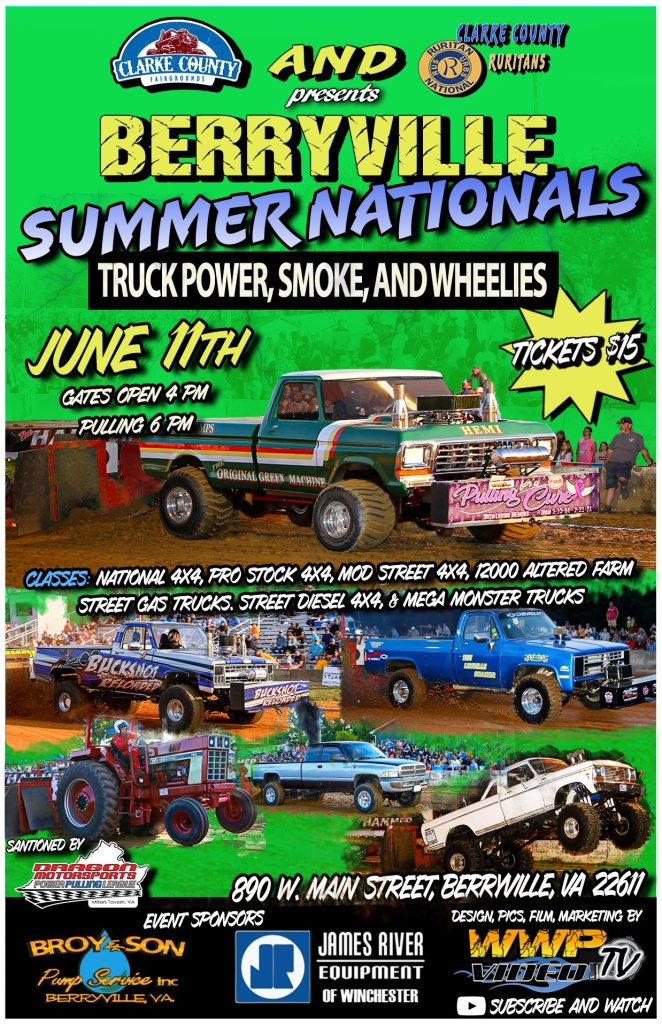 ---
For more information: http://juneteenth2022.myevent.com
—————————————————————————————————————————————–
2nd Annual Marshall E Dokes memorial ATV drags
It's race time!!!
June 25th with a rain date of the 26th.
Registration from 10am to 1pm
Riders meeting at 2pm
Racing starts at 3pm.
$10 for kids 10 and under
$35 for regular classes
$75 for modified class
Pots will be 70/30 split. 30 percent goes to our charity.
Clark County fairgrounds
890 W. Main St. Berryville VA 22611
—————————————————————————————————————————————–
Onion Monster Truck Nationals
SATURDAY, JULY 9, 2022 AT 12 PM – 4:30 PM
Clarke County Ruritan Fairgrounds 890 W Main Street Berryville, VA 22611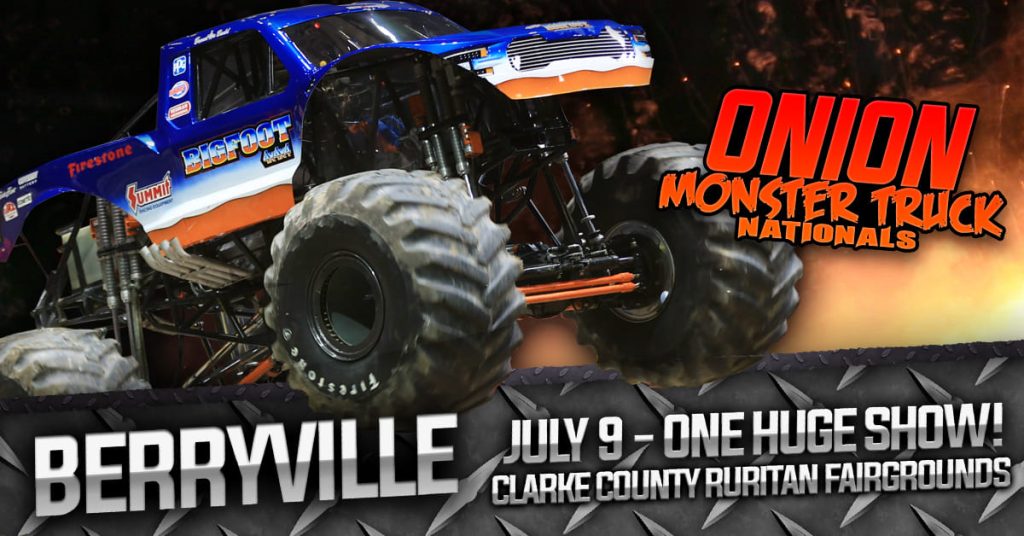 https://www.eventbrite.com/e/onion-monster-truck-nationals-tickets-315515644787