Gas & Diesel Dirt Drag
Tuesday, August 16, 7:30 PM
Sponsored by Clarke County Fair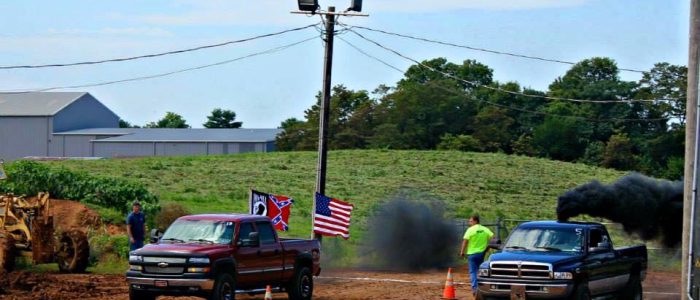 Rules and Regulations
200′ Foot Dirt Drags Rules
Classes:
• Street Diesel 4×4
• Street Gas 4×4
General Rules:
Driver must stay with their vehicle while their class is participating. Failure to stay with your vehicle can result in a disqualification.
Any vehicle that touches the white line on either side of that truck's lane will be disqualified.
Winners will return to the staging area immediately in order to receive staging Instruction for their next round.
No speeding or hot rodding the pit area. Vehicles operating in an unsafe manner can result in a disqualification/ejection from the event and/or the fairgrounds. No riders at any time.
Current and valid photo driver's license Is required for the driver.
Seatbelts must be worn and helmets are required
The use of any form of alcohol is prohibited
All and any drag racing decisions such as winner and possible disqualifications are FINAL. No appeal process.
Racing Rules:
Vehicle must be Street Legal. Must have valid Inspection Sticker, valid tags, and valid registration.
D.O.T. Tire only
Batteries must be secure, truck bed needs to be clean (no trash, etc)
No rails, tube buggy, or bikes. (No open wheeled vehicles)
After the finish line you must stop before the predetermined stop point line, which will be marked on the track. Failure to do so will result in a disqualification.
Left Lane exits first, followed by right lane. Failure to do so will result in a disqualification.
Each class will have a practice round immediately before the competition rounds.