Miss Clarke County Fair Contest
Sunday, August 8, Following Junior Miss Clarke County Fair Contest
Grandstand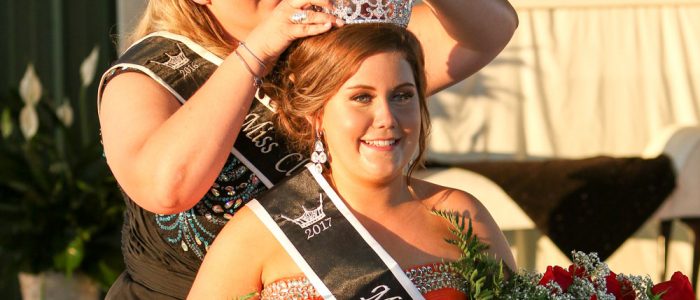 Rules and Duties
Each contestant must be a resident of Clarke County.
Each contestant must be between 16-19 years of age by Fair date: August 8, 2021;  never married, nor had any children. A contestant must be female who has always been female; of good moral character; one that has not at any time been convicted of any crime nor has any criminal charges pending against her; one that has never done any act or engaged  in any activity which is or could be characterized as dishonest, immoral, indecent, or in bad taste. This includes information and photos on Facebook, Twitter, Snapchat and any web pages or any other social media and electronic means.
Contestants will be judged in Business Attire, Personality Attire, and Evening Gown. Each Contestant will be judged on a platform topic/speech (this is timed, and must be 1 minute, and no less than 55 seconds) along with an interview and  a 25-30 second speech about Clarke County and the Clarke County Fair on stage in personality attire.
The winner will be available the entire week of the 2021 Clarke County Fair to give out ribbons and awards and follow fair schedule of events as needed as well as any events throughout the year that the director feels she needs to attend. (ie, Homecoming parade, Christmas Parade, Long Branch Easter, etc.)
The winner will be present at the 2021  Miss Clarke County Fair Pageant.
Each contestant is required to submit a black framed (stand-up) Black & White Photo to be used for the Photogenic Contest.
The winner will receive a $1,000 continuing education scholarship at the end of her reign.
ALL CONTESTANTS MUST attend 2 of the 3 mandatory practices for the Clarke County Fair Scholarship Pageant, most importantly the final dress rehearsal.
A black & white headshot photo must be emailed to Pat Gaston at pat.gaston@yahoo.com by the application date. If email is not available, a CD with the photo is acceptable.
Deadline to Enter: July 15, 2021
Contact:
Pat Gaston
H: 540-837-1658
C: 540-247-3462
pat.gaston@yahoo.com
Annie Gaston
540-535-6267
gastonbk@dukes.jmu.edu